What Color is Your Parachute?
Finding The Next Job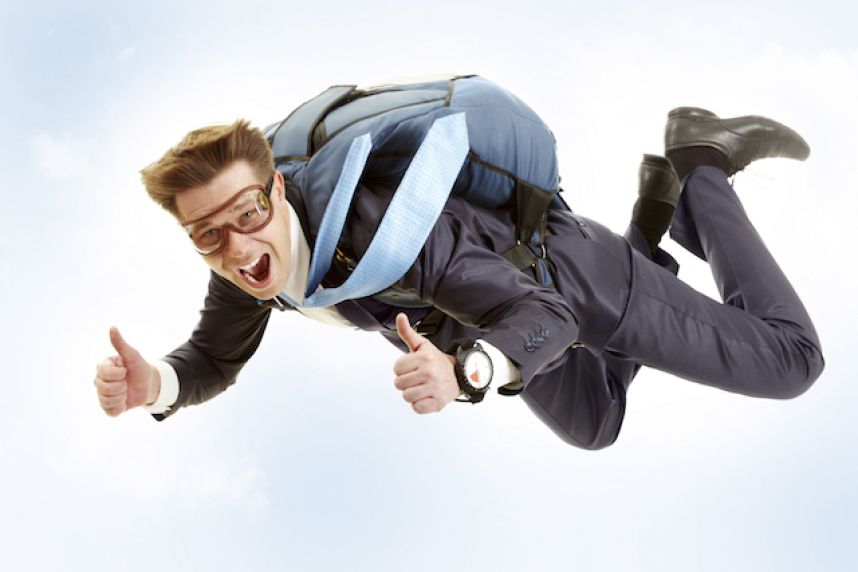 A Practical Manual for Veterans Changing Careers
In today's challenging job-market, the time-tested advice of What Color Is Your Parachute? is needed more than ever. Recent grads facing a tough economic landscape, workers laid off mid-career, and people searching for an inspiring work-life change all look to career guru Richard N. Bolles for support, encouragement, and advice on which job-hunt strategies work–and which don't. This revised and updated edition combines classic elements like the famed Flower Exercise with updated tips on social media and search tactics.
The formulaic approach forces you to delve deeply into your skills and interests to help identify suitable job choices.  It provides realistic guidance, coupled with the recognition that job hunting is still difficult, and requires perseverance and resilience to keep trying in the midst of rejection and disappointment.  This book gives you an advantage in your job hunt by pointing out pitfalls and ways to strengthen your positioning to become more competitive in the job market.  There are no easy steps in the job-hunting process, and the same is true for career-changers, but you can up your odds by following the time-tested advice in the book.
For instance, Bolles emphasizes the importance of taking the initiative to pursue the company you are specifically interested in to increase your odds of having your resume seen versus long odds of using a random approach such as a job board posting.  Bolles stresses throughout the book that the job hunt is more of an art than science and is often dependent on luck and personal contacts.  The chapter on how to start your own business seems like an afterthought, but it will give you a broad roadmap to initiate your information gathering for this venture.  Some of the material seems dated.  For example, I don't know many people who would be successful at getting a job by just showing up at the desired place of employment, especially without an appointment or preliminary contact.
Overall, What Color Is Your Parachute? 2017 is a useful guide, especially for those new to the job hunting conundrum.
Related Blogs
Nov 2, 2016

When most corporate recruiters and hiring managers interview a veteran, they treat the process as if the candidate were just like everyone else. On one level, this is good, because it ensures equality of opportunity and compliance with both human resources law and common sense. Companies are losing out on the high value of quality veteran talent, however, when they do not take the proper veteran-specific steps to prepare, assess and follow up with military-experienced candidates. In every important way, veteran job candidates are like any other human, but unlocking their special and extraordinary capacity to contribute to a new organization requires effort and insight. One model for successful veteran interviewing is defined by the acronym PAF: Prepare, Assess and Follow up. This article examines the first step: Prepare. Understand why you are hiring veterans. During the Prepare phase, the interviewer reviews the organization's driving purpose in hiring veterans, checks his or her bias regarding veterans and seeks to understand the true success drivers for the position. Most interviewers skip the first step, but it is critical to understand the underlying motivations for the organization's veteran hiring initiative. Is there a sincere commitment to veteran abilities and experiences, or is there more of a political climate of insincere appearances? Some organizations feature a wide range of sometimes conflicting motivations, but the skilled interviewer will seek to understand the "why" and..

Mar 26, 2016

Making the transition from military service to a civilian career is a defining point in one's life. For veterans interested in pursuing a career in the financial services industry, the great news is that many skills developed in the military are transferrable and very much in demand. This segment of our economy manages $63 trillion dollars annually and is a viable employment option for veterans. While it is not for everyone, for those who posses the acumen and drive, this can be a very lucrative occupation. At this event you will hear from veterans and industry experts about the ins and outs of the business so that you can make the decision to see if it is the right fit for you. A moderator will oversee (4) panel members who will have 5-7 minutes to talk about their experiences regarding the current business climate/opportunities in the financial services industry, and what they are doing regarding Veterans (internships, hires, etc). There will be a Q&A session afterwards.

Nov 23, 2015

This Veterans Day, we're proud to honor the service members and military spouses who are driver-partners with Uber San Diego. On Tuesday, November 11th, riders can thank a member of the UberMILITARY community in person by selecting the vehicle option UberMILITARY and taking a ride with an uberX veteran or military spouse driver-partner. The UberMILITARY vehicle option will be live in the app from 8am-10pm PST. For every UberMILITARY ride, Uber will make a donation to Hiring Our Heroes, a non-profit organization that helps veterans and military spouses transition to civilian life. We actively seek out service members and military spouses to drive with Uber because they tend to be some of the best driver-partners on the platform. Based on a case study conducted right here in San Diego, we found that veterans maintain higher driver ratings on average than non-veteran partners and also complete the more trips per week. In short, veterans are all-stars and the community values them tremendously. There are over 300 service members and military spouses partnering with Uber in San Diego and moving riders around our city every day. We'd like to introduce you to a few of them – and we hope you'll join us in saying "thank you."