NVTSI Begins Veteran Workforce Development Under OPERATION REBOOT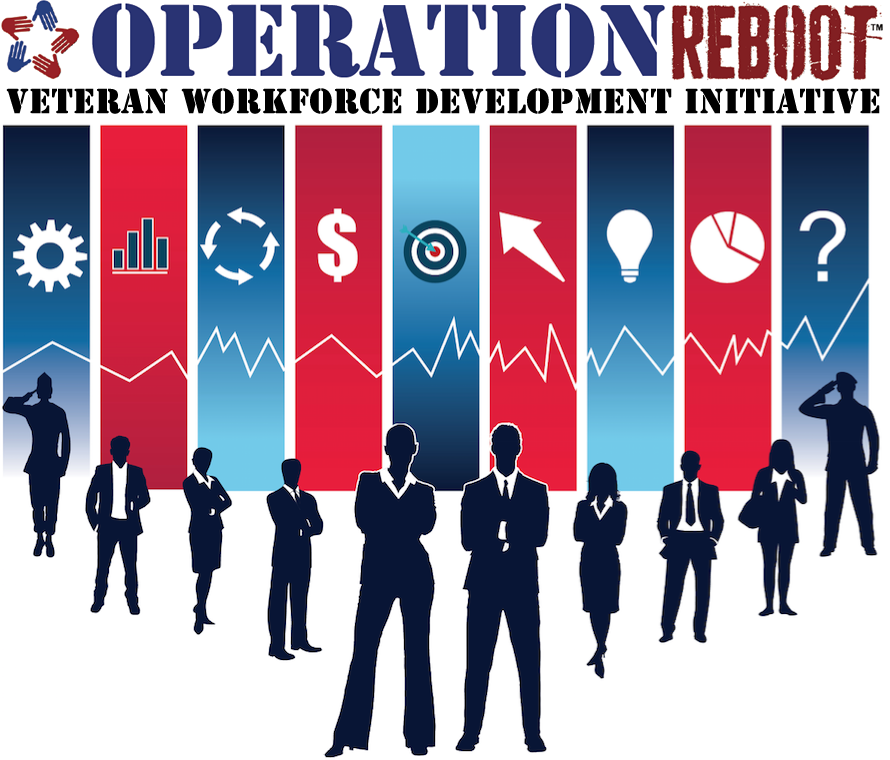 (San Diego, Calif.) September 29, 2016 – National Veterans Transition Services, Inc. (NVTSI), popularly known as REBOOT, a San Diego-based nonprofit founded in 2010 to help veterans with their reintegration back into civilian life, will be expanding to Los Angeles this winter.
"We are delighted to partner with the California Employment Training Panel, veteran training providers, and local employers to align workforce development with local employer needs, making the best use of our collective resources to serve our transitioning military personnel and veterans," reports Maurice Wilson, NVTSI's co-founder, President and Executive Director.
OPERATION REBOOT is an employer-driven initiative to prepare and train local transitioning military personnel and veterans for gainful employment in L.A.'s priority job sectors. It's a 2-step process that is carefully orchestrated. First, by focusing on and resolving key reintegration issues veterans face, OPERATION REBOOT prepares them for success in the civilian world. As 1,500 graduates of the REBOOT Workshop™ can attest, moving from the battlefront to the home front is a life change, on top of a job change. Second, given that only 17 percent of military occupations translate directly into civilian jobs, veterans need specific job skills training to facilitate their successful transition. By partnering with employers, OPERATION REBOOT helps to align workforce training to bolster local economic development and employer needs. "Working in close partnership with community stakeholders," says Maurice Wilson, "our objective is to create a predictable talent pipeline from the military to match the needs of employers."
"As a nonprofit, we work diligently to make every dollar count, so REBOOT has performance metrics that guide our efforts," reports NVTSI Chairman and former Marine Jim Wong. So far, after six years, REBOOT has a placement rate of 97 percent of its graduates (into gainful employment or post-secondary education), and a 93 percent retention rate after the first year (as verified by the University of San Diego). Recognized by the White House, REBOOT co-founders retired Rear Admiral Ronne Froman and Maurice Wilson have been named Champions of Change.
At the heart of NVTSI is its signature REBOOT Workshop™, a research- and evidence-based approach to military-to-civilian transition that combines cognitive behavioral education with real-world career transitioning methodology. In partnership with local colleges, and with other training partners, OPERATION REBOOT in L.A. will start by "REBOOTing" and reclassifying local transitioning service members and veterans, matching them with jobs in high job growth industry sectors, in collaboration with more than 500 local employers.
The goal of the program is to process 2,000 to 2,400 cohorts annually in Southern California to bolster the local economy while alleviating financial problems for veterans and their families.
About NVTSI
National Veterans Transition Services, Inc., a San Diego based 501 (c)(3) organization known as Reboot, is dedicated to assisting veterans in adjusting to civilian life and securing meaningful employment by combining evidence-based, best-practice performance techniques. Reboot WorkshopsTM help veterans achieve their full potential and goals in the transition domains of employment and career, education, living situation, personal effectiveness/wellbeing and community life functioning. For more information visit: www.operationreboot.vet