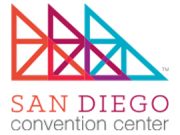 About San Diego Convention Center
The San Diego Convention Center Corporation (SDCCC) is a non-profit public benefit corporation created by the City of San Diego to manage, market and operate the San Diego Convention Center. A seven-member board of directors comprised of business and community leaders establishes policy for the SDCCC.
Our Purpose
The San Diego Convention Center is the region's premiere gathering place, hosting conventions, trade shows and community events that economically benefit the City of San Diego and advances our convention and tourism industry.
Our Promise
To provide our clients and guests outstanding service, consistently exceeding expectations, so that they want to come back over and over again, to invest further in San Diego.
Our History
A major downtown redevelopment campaign in the late 1970s ultimately led to the siting of the convention center on 11 acres of Port of San Diego-owned land along San Diego Bay. City voters approved a proposal to build the waterfront convention center in November 1983. The Port agreed to fund the entire project at a cost of $164 million with no debt service. The City Council then created the San Diego Convention Center Corporation, which was incorporated in October 1984, to manage and operate the new facility upon completion. A nine-member board of directors was appointed to establish policy for the non-profit, public benefit corporation.
Who We Are
Our culturally diverse team of employees is dynamic, well trained, valued and is a critical component to our success in a highly competitive industry. We believe in having a workforce that represents the beautiful city in which we live and the guests we serve.
Through our recruitment outreach, we share our job openings with a network of local organizations to promote and encourage employment opportunity for women, minorities, veterans and persons with disabilities. We also partner with local unions that promote job training and specialized skills for a successful workforce. Collectively, our staff of more than 500 employees represents 19 languages and six skilled trades.
· Events held at the San Diego Convention Center in 2017 will generate an estimated $1.1 billion in regional impact.
· Our events in 2016 generated $23.9 million in Hotel & Sales Tax Revenue to the City of San Diego's general fund (highest level since 2008). The fund helps pay for infrastructure repairs, local services like police and firefighters as well as funds the building of parks and libraries.
· The San Diego Convention Center welcomed 824,000 attendees in 2016 (the 5th highest year in attendance). That's almost equal to the population of San Francisco.
· This year, 21 medical meetings will account for nearly 30 percent of total attendance and over 50 percent of the convention center's regional impact.
· The San Diego Convention Center is a sustainability leader. In 2016, we diverted 79 percent of waste generated at the convention center. We broke our own record by recycling 3,162 tons of material.
· A community partner, the convention center donated 91 tons of edible food to the San Diego Rescue Mission; enough to plate 227,500 meals for hungry San Diegans in need.