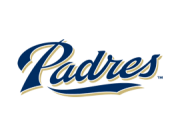 About Padres
The San Diego Padres are a Major League Baseball club, established in 1969. The Padres compete in the National League Western Division, playing home games at Petco Park, which opened in downtown San Diego in 2004.  In its history, the club has won four division titles and two National League pennants, advancing to the World Series in 1984 and 1998.
The Padres organization is committed to winning on the field, creating an exceptional fan experience at the ballpark and making a positive impact in the San Diego community. The latter of the three is accomplished through the Padres Foundation for Children, a community asset inspired to make a difference in the areas of, LIVE (Children's Health), LEARN (Education), PLAY (Youth Baseball/Softball and Youth Fitness) and SERVE (Supporting Law Enforcement and Military Communities).
The San Diego Padres are an Equal Opportunity Employer.