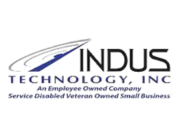 Service Disabled BusinessYes
Veteran Owned BusinessYes
Veteran-FriendlyYes
Has Veteran GroupNo
About Indus Technology, Inc.
Joining the INDUS Team will allow you to explore the many possibilities for advancement within this dynamic growth organization.
INDUS Technology, Inc. is an Equal Employment Opportunity employer. All qualified applicants will receive consideration for employment without regard to gender, race, national origin, age, religion, disability, sexual orientation, veteran status, marital status, or any other class protected by law (EE/AA M/F/D/V).